- NOW in FOG CITY JOURNAL -
NOTE: For subscribers who cannot read HTML-formatted text, click here

---
State prosecutors build case in 1971 politically motivated killing of SFPD officer
No evidence revealed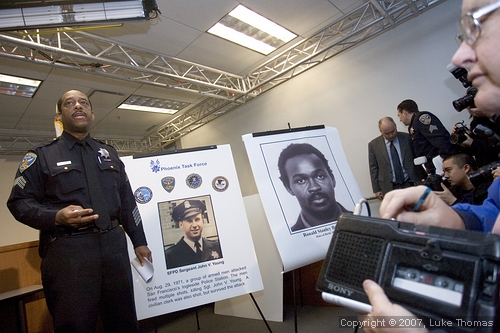 SFPD spokesperson Neville Gittens stands beside a poster
of slain SFPD officer Sgt. John Young who was murdered in cold blood
during a politcally motivated attack on the Ingleside police station in 1971.
Photo(s) by Luke Thomas
By Brent Begin, Bay City News Service

January 23, 2007
SAN FRANCISCO (BCN) - The California attorney general's office is building a case against eight former members of the Black Liberation Army in connection to the 1971 death of a San Francisco police sergeant.
Many of the men had been in and out of custody on suspicion of killing Sgt. John Young in a politically motivated attack, but they had since been released without a conviction.
Full story, click here.
---
San Francisco supervisors introduce resolutions
on red lights, 49ers, power plant closure
By Lara Moscrip, Bay City News Service

January 24, 2007
SAN FRANCISCO (BCN) - The San Francisco Board of Supervisors yesterday introduced resolutions on a wide array of topics spanning bicyclists, the future of the 49ers within city limits and the closure of the Potrero power plant.
Full story, click here.
---
COURT JESTERINGS
With h brown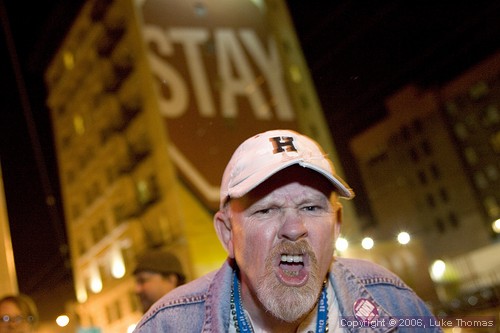 Photo(s) by Luke Thomas

Court Jester analyzes Peskin committee assignments
January 24, 2007
Peskin Committees open doors
(Mirkarimi sitting pretty)
Yesterday Hollywood announced their nominees for the Academy awards and SF Board of Supes prez Aaron Peskin announced his new committee assignments. The committee assignments are one hell of a lot more important around these parts.
Full story, click here.
---
And in other news...
Home sales drop across Bay Area
Schwarzenegger says action more important than words in health care
Brown: Sentencing ruling "golden opportunity for legislature"

Supreme Court strikes down California sentencing scheme
Crop freeze prompts Schwarzenegger to open unemployment assistance centers
Fog City Journal wants to know: If you could have any mayor you wanted, who would it be?
---
Letters
- The 700-mile bloodletting
Letters, click here.
---
Bay Area Weather Forecast

Current satellite photo courtesy NOAA Satellite Service

Weather, click here
---
More Fog City Journal stories, click here.