- NOW in FOG CITY JOURNAL -
NOTE: For subscribers who cannot read HTML-formatted text, click here

---
Clinton, De Klerk address school board members
at 67th annual NSBA conference
The real buzz: No Child Left Behind and its impact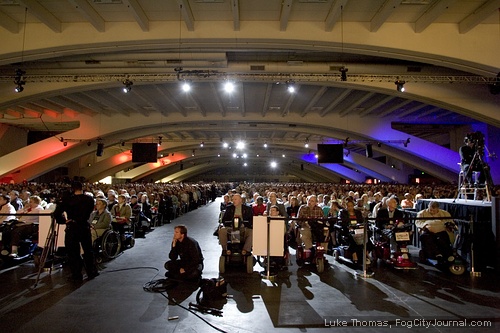 As many as 14,000 school board members attended the 67th annual National School Board conference this past weekend at San Francisco's Moscone Center.
Photo(s) by Luke Thomas
By Chelsey Hart

April 16, 2007
SAN FRANCISCO (FCJ) - Two former presidents, Bill Clinton and F.W. de Klerk, headlined as keynote speakers at the National School Boards Association's 67th annual conference held at San Francisco's Moscone Convention Center this past weekend.
President Bill Clinton focused his speech on our nation's failing health care system and the growing childhood obesity epidemic, while former South African president F.W. de Klerk explored the theme of change and the necessity for educators to adapt curriculum to new emerging technologies in a rapidly changing world.
Full story, click here.
---
Bill Clinton urges action
on childhood obesity epidemic

President Bill Clinton urges participants at the 67th annual National School Board Association conference, held in San Francisco, to take responsibility to act against the childhood obesity "epidemic" sweeping across the United States and the world.
Photo(s) by Luke Thomas
By Ari Burack, Bay City News Service

April 15, 2007
SAN FRANCISCO (BCN) - Former President Bill Clinton told a packed audience of educators and school administrators today in San Francisco that a rising tide of childhood obesity is setting the stage for "a calamitous crisis in health" in the United States and around the world.
Addressing the annual conference of the National School Boards Association at Moscone Center, Clinton said "a confluence of factors that have to do with how we work and live and raise our children" are now threatening the nation's health care system and endangering the lives of children.
Full story, click here.
---
Tenderloin fatal shooting result of a shootout
By Lara Moscrip and Emmett Berg, Bay City News Service

April 15, 2007
San Francisco police released more information today about an early morning shooting in the Tenderloin neighborhood that left one woman dead and injured four other people.
In that attack, Sgt. Neville Gittens said that an as-yet-unknown person initiated the gunfire, which prompted a wheelchair-bound man to return shots. As a result of the ensuing shootout, a woman was killed and among the four injured, a 23-year-old woman suffered life threatening injuries.
Full story, click here.
---
Newsom announces Saturday Golden Gate Park
road closure pact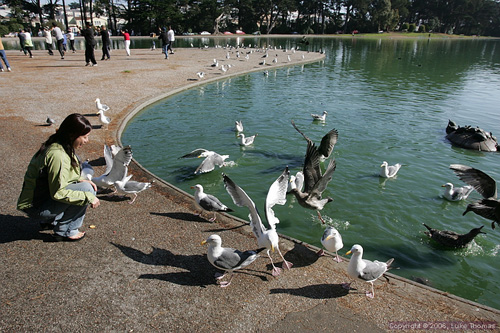 Photo(s) by Luke Thomas
By Emmett Berg, Bay City News Service

April 14, 2007
SAN FRANCISCO (BCN) - Mayor Gavin Newsom announced an agreement Friday on a five-year plan to close John F. Kennedy Drive in Golden Gate Park to motor traffic on Saturdays from April through September during the daytime.
JFK Drive already is closed to motor vehicles on Sundays and a plan to extend the closure to Saturdays was met with sustained opposition.
Full story, click here.
---
Letters, letters, letters...
- Re: Endorsing Critical mass
- Endorsing Critical Mass
- The SF Bicycle Coalition does not endorse Critical Mass
- Critical Mass and the SF Bicycle Coalition
Letters, click here.
---
And in other news...
- School Board, City, pen statement of mutual commitment to strengthen San Francisco public schools
---
Bay Area Weather Forecast

Current satellite photo courtesy NOAA Satellite Service

Weather, click here
---
More Fog City Journal stories, click here.