- NOW in FOG CITY JOURNAL -
NOTE: For subscribers who cannot read HTML-formatted text, click here.
---
Explosion in San Francisco's Outer Mission District
Three treated for injuries
By Brigid Gaffikin

May 25, 2007
Police are at the scene of an explosion in San Francisco's Outer Mission neighborhood this morning, a police officer at the Ingleside Station said.
An arson inspector has been called out to 5315 Mission St., a strip of mostly small retail businesses, the officer said.
Police "got there, they saw the windows of the cleaners blown out," Gittens said.
Full story, click here.
---
Overheard in Fog City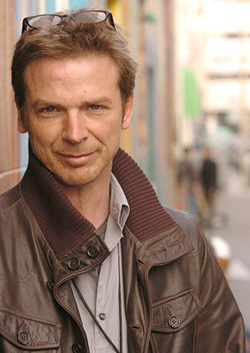 Luke Thomas
FCJ Publisher and Editor-in-Chief
Photo by Adam Aufdencamp
By Luke Thomas
May 24, 2007, 3:45 p.m.
Tony Hall files to run for Mayor of San Francisco
Former District 7 Supervisor Tony Hall has, today, ended months of speculation about his intent to run for Mayor of San Francisco.
Hall called Fog City Journal this afternoon from City Hall indicating he was in the process of filing the required papers at the Department of Elections.
Asked what Hall's message and platform will consist of, Hall responded: "To put it simply, to solve the problems that have been ignored... the major problems of this city for the last three and a half years.
"There's a whole host of problems, but we can start with the major ones. Homelessness, his [Mayor Gavin Newsom] Care Not Cash has been a colossal failure to the point where he's now warehousing homeless people up at Laguna Honda to camouflage the failings of Care Not Cash.
Full story, click here.
---
City attorney extends deadline for Ed Jew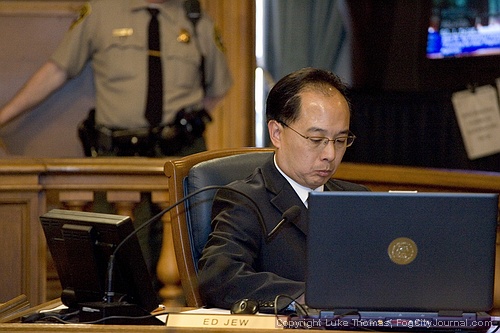 District 4 Supervisor Ed Jew at Tuesday's Board of Supervisors meeting, is the focus of a federal and local investigation. Today, the San Francisco City Attorney extended a deadline for Jew to hand over documents to prove his true primary residence.
Photo(s) by Luke Thomas
By Tamara Barak
May 25, 2007
The deadline has been extended for San Francisco Supervisor Ed Jew to hand over documents proving his primary residence is in the district he represents, a spokeswoman for the city attorney's office said yesterday.
Jew, who represents District 4, will have until June 8 to submit a copy of his 2006 federal and state tax returns, driver's license, vehicle registration and utility bills from 2450 28th Ave. in San Francisco to City Attorney Dennis Herrera, said Herrera's spokeswoman Alexis Truchan.
Full story, click here.
---
Report: Golden Gate Bridge suicide barrier concepts comply with wind stability criteria
By James Lanaras

May 25, 2007
All three concepts for a suicide deterrent system on the Golden Gate Bridge comply with wind stability criteria for the famous span, according to a report issued yesterday.
All three also would change the appearance of the bridge that has long been a destination for those intent on suicide.
There is an average of two suicides a month at the bridge, according to Dr. Mel Blaustein, president and board of directors of the Psychiatric Foundation of Northern California and Medical Director of St. Francis Hospital in San Francisco.
Full story, click here.
---
And in other news...
- MacArthur Maze reopens
- No injuries reported following Pittsburg power plant emission of chlorine chemical cloud
- Garment factory owners convicted of conspiracy to commit bankruptcy fraud
- Three plead guilty to airline travel tickets swindle
- Two arrested on suspicion of murder
News briefs, click here.
---
Bay Area Weather Forecast

Current satellite photo courtesy NOAA Satellite Service

Weather, click here
---
More Fog City Journal stories, click here.