- NOW in FOG CITY JOURNAL -
NOTE: For subscribers who cannot read HTML-formatted text, click here
---
San Francisco mourns the passing
of a murdered SFPD officer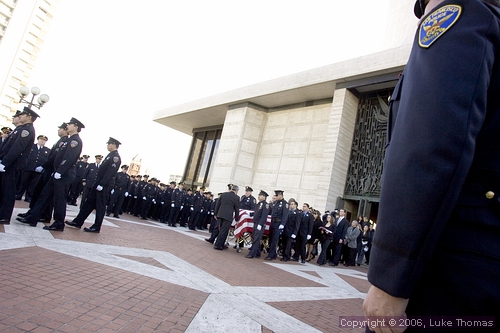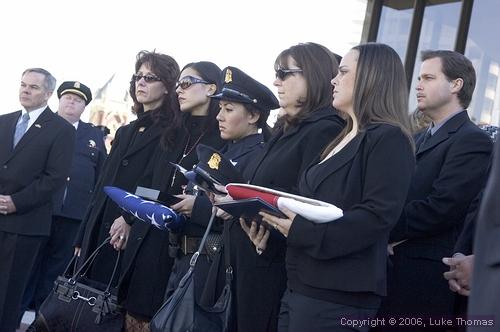 Family members of slain SFPD Officer Bryan Tuvera alight outside Saint Mary's Cathedral after an emotional funeral was held to honor his life and valiant service to San Francisco. Tuvera was murdered in the line of duty on December 22 while attempting to serve a warrant on a felon. Tuvera was 28 years old and wedded for only two months to wife and fellow SFPD officer, Salina (pictured center), when he was killed.
Photo(s) by Luke Thomas
By Brent Begin, Bay City News Service

December 29, 2006, 2:28 p.m.
SAN FRANCISCO (BCN) - Thousands of mourners, most in the dress blues of the San Francisco Police Department, paid their respects for murdered officer Bryan Tuvera today during an emotional ceremony at St. Mary's Cathedral.
Full story, click here
---
Overheard in Fog City
- The plot thickens - Timing is everything
- Triple Play Component mulling polls for possible run for mayor
- Norman Yee's injuries may be serious
- Former San Francisco Elections Commissioner heading to Washington D.C.
The nitty gritty, click here
---
Three dead, one in critical condition
after San Francisco shooting
Bay City News Service

December 30, 2006
Three people are dead and one person is in critical condition this morning after a late-night shooting in San Francisco's Bayview District Friday, according to a San Francisco police dispatcher.
Police first received reports of the shooting, located at the intersection of Innes Avenue and Mendell Street, at about 10:47 p.m. Friday, the dispatcher said.
Full story, click here
---
And in other news...
California jury system benefits from new rules in 2007
Statement by Schwarzenegger regarding his health
49er Bryant pleads not guilty, avoids appearance
Federal appeals court ruling lets prosecuters keep steroid test records in BALCO case
Schwarzenegger proposes $95 million for clean technology, biotech, nanotech
Court Jester hosts Fog City/Bulldog Xmas Day bash
San Francisco's Tenderloin celebrates the birth of Christ
---
Letters
- Morocco is an occupying power
Letters, click here
---
Bay Area Weather Forecast

Current satellite photo courtesy NOAA Satellite Service

Current radar image courtesy NOAA Satellite Service

Weather, click here
---
More Fog City Journal stories, click here.