- NOW in FOG CITY JOURNAL -
NOTE: For subscribers who cannot read HTML-formatted text, click here

---
Newsom town hall meeting draws criticism
from chicken protest group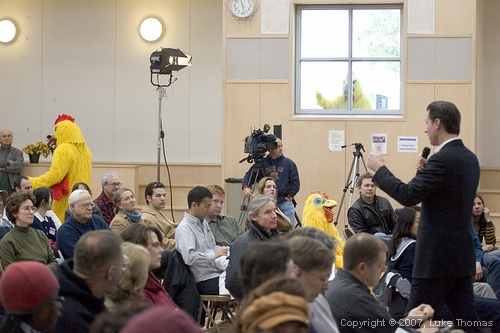 Mayor Gavin Newsom gives a thumbs up to city efforts to end homelessness while a member of The Chicken Group simultaneously gives a thumbs up to "Question Time" during Saturday's district town hall meeting at the Richmond Recreational Center.
Photo(s) by Luke Thomas

January 15, 2007
Some 200 attendees, an unusually large pack of news media outlets, a phalanx of mayoral department heads, a homelessness panel and six chicken-suited protestors, all descended on the Richmond District Recreation Center, Saturday, to witness the first test of Question Time (Measure I), and to engage in a panel discussion on homelessness.
Full story, click here.
---
Overheard in Fog City
- Newsom version of Question Time a sham
The chickens have come home to roost
- Credibility at stake
The nitty gritty, click here.
Bay Area Weather Forecast

Current satellite photo courtesy NOAA Satellite Service

Current radar image courtesy NOAA Satellite Service

Weather, click here
---
More Fog City Journal stories, click here.