- NOW in FOG CITY JOURNAL -
NOTE: For subscribers who cannot read HTML-formatted text, click here

---
The six million dollar mayor:
Why the 2007 mayor's race will be so different
(Part 2 of a 5 part series)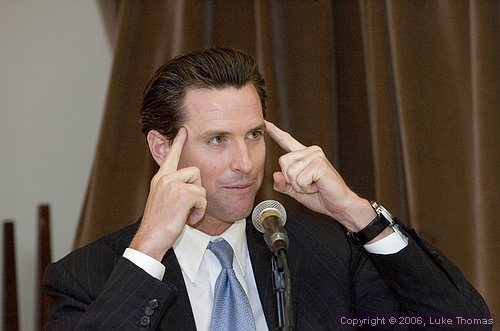 Mayor Gavin Newsom
Photo(s) by Luke Thomas
By Joe Lynn
February 20, 2007
Editor's Note: Part 2 of a 5 part series by elections and ethics expert Joe Lynn. Lynn explains that scandals aren't all that will reduce Mayor Gavin Newsom's campaign fundraising

San Francisco Mayor Gavin Newsom's personal revelations will have an adverse effect on his relationship to his principal campaign donors. That effect, combined with new campaign finance laws that limit the overall amount of money that the Mayor can raise, will mean this year's race for Mayor might not be the coast to reelection that his campaign had hoped for.
Full story, click here.
---
The six million dollar mayor:
Why the 2007 mayor's race will be so different
(Part 1 of a 5 part series)
By Joe Lynn
February 19, 2007
Editor's Note: Part 1 of a 5 part series by elections and ethics expert Joe Lynn. Lynn explains that scandals aren't all that will reduce Mayor Gavin Newsom's campaign fundraising

Gavin Newsom set fundraising records in his 2003 mayoral race. His haul of over $6 million almost doubled Willie Brown's previous record. He now has filed his first report for his re-election campaign covering a four-month fundraising effort in 2006.
This go-around, he has so far raised almost $650,000. So it looks as though he'll reach that mark again, doesn't it?
Full story, click here.
---
Green Party celebrates progressive victories
with art and social commentary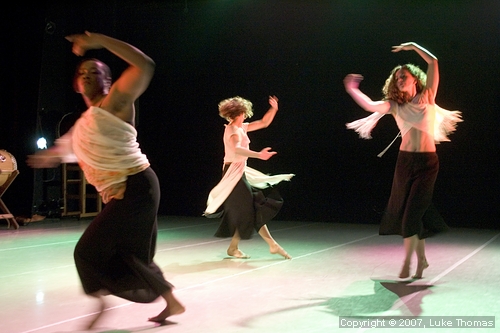 Members of Dance Brigade entertain an audience of Green Party devotees
at Dance Mission Theatre Saturday.
Photo(s) by Luke Thomas

February 19, 2007
San Francisco Green Party devotees gathered to celebrate world music and local progressive victories at Dance Mission Theatre on Saturday.
School Board members Jane Kim and Kim-Shree Maufus, School Board President Mark Sanchez, Community College Board Trustee John Rizzo and District 6 Supervisor Chris Daly were each honored for their progressive leadership.
Full story, click here.
---
Wiesel assault suspect arrested in New Jersey
Harris: "Our City won't allow hatred to go unpunished"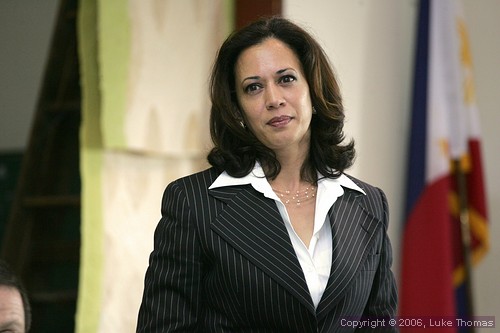 San Francisco District Attorney Kamala Harris
Photo(s) by Luke Thomas
By Ari Burack, Bay City News Service

February 18, 2007
SAN FRANCISCO (BCN) - A New Jersey man suspected of attacking Nobel Peace Prize laureate and author Elie Wiesel in San Francisco on Feb. 1 has been arrested, San Francisco District Attorney Kamala Harris announced Saturday.
Harris said 22-year-old Eric Hunt of Sussex County, N.J. was arrested Saturday by authorities in New Jersey and is in the process of being extradited to San Francisco for prosecution.
"Hate anywhere is a threat to people everywhere,'' Harris said.
Full story, click here.
---
And in other news...
- San Francisco police refer Baker's Dozen case to prosecuters
- Trial setting delayed for coach who triggered BALCO
- Americans lag only Turkey in discrediting evolution
- Car tax reduction not linked to welfare increase
---
Letters, letters, letters...
- Rippey-Tourk: Pay back the ripoff!
- D.A. Puff Piece?
Letters, click here.
---
FCJ Quote of the Day


"We're in the midst of a war that should have never been authorized. As a consequence of our misguided policies in Iraq, we find ourselves less safe."
- Sen. Barack Obama (D-IL)
---
Bay Area Weather Forecast

Current satellite photo courtesy NOAA Satellite Service

Weather, click here
---
More Fog City Journal stories, click here.