- NOW in FOG CITY JOURNAL -
NOTE: For subscribers who cannot read HTML-formatted text, click here

---
New study prompts retry of Saturday Golden Gate Park auto prohibition
Supervisor McGoldrick leads charge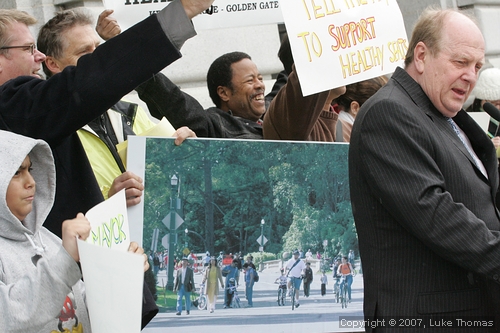 Supervisor Jake McGoldrick (right) led a rally Tuesday on the steps of City Hall calling attention to a new study showing Golden Gate Park usage increases when autos are prohibited. Following the press conference, McGoldrick introduced new legislation to close part of John F. Kennedy Drive to vehicular traffic on a six-month trial basis.
Photo(s) by Luke Thomas
By Tamara Barak, Bay City News Service

February 28, 2007
SAN FRANCISCO (BCN) - In a second attempt to close a section of Golden Gate Park to cars on Saturdays, San Francisco Supervisor Jake McGoldrick Tuesday introduced legislation to close part of John F. Kennedy Drive to traffic on a six-month basis.
The stretch of road in question -- from Kezar Drive to Traverse Drive - has long been closed to traffic on Sundays.
Full story, click here.
---
Former McAfee counsel indicted
in stock option backdating case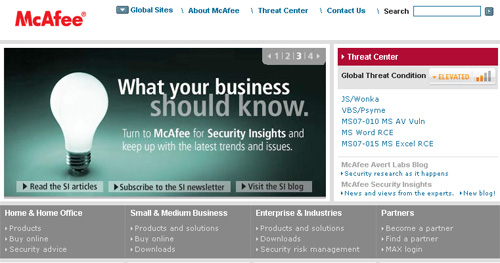 Screen shot courtesy McAfee, Inc.
By Julia Cheever, Bay City News Service

February 28, 2007
SAN FRANCISCO (BCN) - The former general counsel of McAfee Inc., a computer security company based in Santa Clara, was indicted by a federal grand jury in San Francisco Tuesday on seven charges related to allegedly fraudulent backdating of stock options.
Kent Roberts, 50, of Dallas, is scheduled to be arraigned before a federal magistrate in San Francisco on Thursday.
Full story, click here.
---
San Francisco landslide displaces 120 residents
in North Beach
By Brent Begin and Lara Moscrip, Bay City News Service

February 28, 2007
SAN FRANCISCO (BCN) - Officials have no estimate as to when 120 North Beach residents forced out of their homes due to a massive landslide that hit the southern slope of Telegraph Hill Tuesday morning will be able to return home.
San Francisco Mayor Gavin Newsom came out to assure residents that the city is doing all it can to help those affected by the slide, which includes 87 apartments and condominiums.
Full story, click here.
---
Herrera calls for restraining order
against Newsom stalker
By Brent Begin, Bay City News Service

February 28, 2007
SAN FRANCISCO (BCN) - A Union City man accused of stalking San Francisco Mayor Gavin Newsom will find out in just over a week if a judge will grant a restraining order against him.
According to a complaint filed by the city attorney's office, Han Shin, 42, has had several brushes with Newsom, including some uncomfortable run-ins at City Hall, another incident at a town hall meeting in the Bayview district, and even a close call inside Newsom's apartment building.
Full story, click here.
---
COURT JESTERINGS
With h brown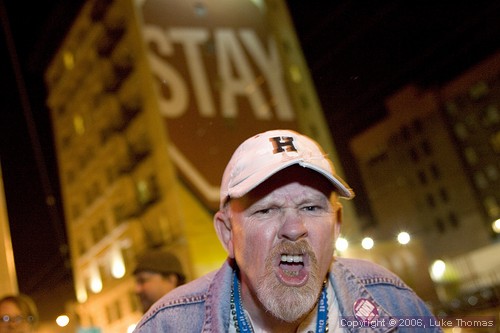 Photo(s) by Luke Thomas
China First
(name of restaurant on Clement)
February 27, 2007
I don't like the Chinese government one single friggin' bit and it totally pisses me off that they were able to force the Falun Gong out of the Chinese New Year's parade. Any politician who rides in that parade without first proclaiming their sympathy for the plight of the Falun Gong shouldn't be supported by Progressives when they run for re-election.
Full story, click here.
---
And in other news...
- Concerts at Jerry Garcia Amphitheater
---
FCJ Quote of the Day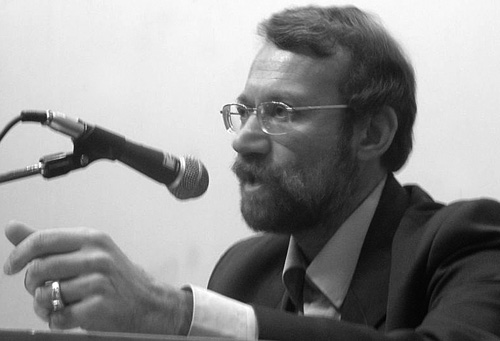 Ali Larijani
"We believe Iraq's security is related to all its neighbouring countries and they have to help settle the situation."

Ali Larijani, Senior Iranian Official, 2/28/7

---
Bay Area Weather Forecast

Current satellite photo courtesy NOAA Satellite Service

Weather, click here
---
More Fog City Journal stories, click here.