- NOW in FOG CITY JOURNAL -
NOTE: For subscribers who cannot read HTML-formatted text, click here
---
Fong, SFPD captains, POA, join Newsom in opposing popular foot patrol legislation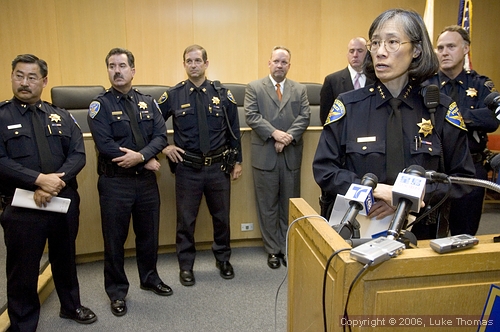 SFPD Chief Heather Fong stands with several district captains and POA President Gary Delagnes in support of Mayor Newsom's veto of popular foot patrol legislation mandating foot patrols in areas most impacted by violent crime. The press conference was called earlier today on the eve of Tuesday's Board of Supervisors meeting where Supervisors will vote to either sustain or override the veto.
Photo(s) by Luke Thomas
By Brent Begin, Bay City News Service
November 13, 2006
SAN FRANCISCO (BCN) - San Francisco Police Chief Heather Fong unveiled a department plan today to put 44 officers on daily foot patrols throughout the city, trumping recently vetoed beat patrol legislation passed by the Board of Supervisors.
In a room filled with department captains, Fong stopped short of saying whether or not she would comply with legislation if supervisors pull together the eight votes required to overturn Mayor Gavin Newsom's veto.
Full story, click here
---
Sewers of Beauty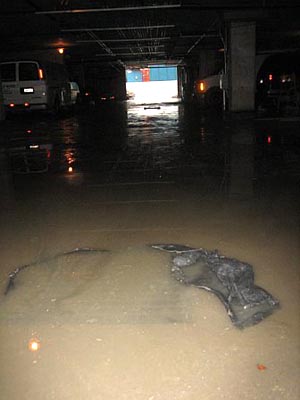 Forgetting about the infrastructure means new housing
with a flooded garage.
Photos by Kepa Askenasy
By Daniela Kirshenbaum and Kepa Askenasy
November 14, 2006
When waters rise in an urban center like San Francisco, citizens get a little uneasy. What's really in that water? And why is this "world-class city" flooding?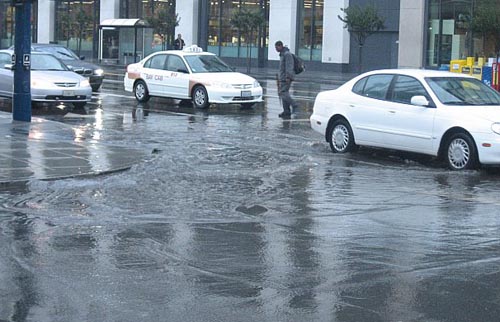 The lady just wants to cross the street. The bike messenger needs to get through the intersection. But the rain, the water, the floods! Why?
Full story, click here
---
COURT JESTERINGS
With h brown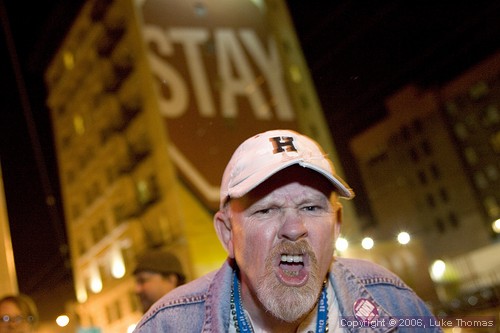 Photo(s) by Luke Thomas

Court Jester gets pretty much soaked
November 14, 2006
"Someday a hard rain will come and wash this scum off the street."
(From the 1976 movie, Taxi Driver, starring Robert DeNiro).
That was a hell of a movie but the neighborhood that drove the DeNiro character mad wasn't nearly as bad as the one I live in. It doesn't rain hard enough to clean this place. Still, God did gave it a try today. Starting well before light and continuing deep into the night, our deity poured millions of gallons of water on months of caked Tenderloin vomit and human excrement. I fear it will take a stronger mix.
Full story, click here
---
Research: Environment impacts gene performance
By Elizabeth Daley, Bay City News Service
November 14, 2006
OAKLAND (BCN) - Doctors and scientists at Children's Hospital Oakland Research Institute say they have proven that a mother's diet during pregnancy can impact the health of her grandchildren.
However, the 1,000 mothers studied over two years were "viable yellow agouti mice," bred to be genetically identical, so while study author Dr. David Martin says this study shows environmental factors can affect a fetus for generations, he said he has no recommendations for soon-to-be mothers, other than maintaining good health during pregnancy.
Full story, click here
---
Homeless veterans get grant money
in San Francisco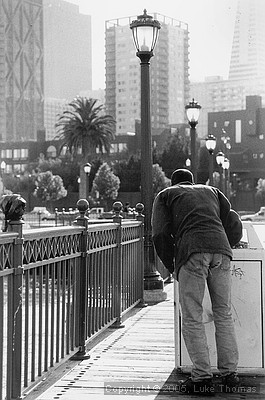 Photo(s) by Luke Thomas
By Elizabeth Daley, Bay City News Service
November 14, 2006
SAN FRANCISCO (BCN) - The Department of Veterans Affairs announced today a $100,000 grant would be given to The Salvation Army in San Francisco to provide assistance to homeless veterans in the area.
Full story, click here
---
Letters
Kirshenbaum's 49ers article spot on
Letters, click here
---
Bay Area Weather Forecast

Latest satellite photo courtesy NOAA Satellite Service

Latest radar image courtesy NOAA Satellite Service

Weather, click here
---