- NOW in FOG CITY JOURNAL -
NOTE: For subscribers who cannot read HTML-formatted text, click here

---
Studies conclude: TV makes kids fat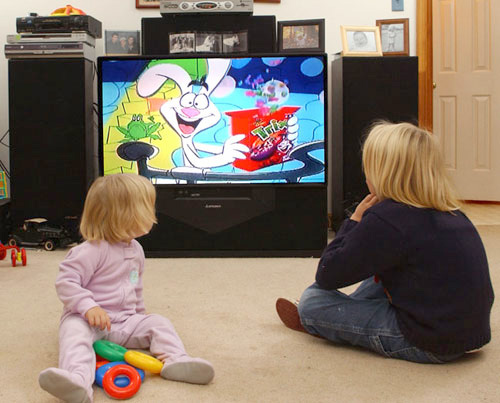 Photo courtesy The Future of Children
By Elizabeth Daley, Bay City News Service

March 1, 2007
SAN FRANCISCO (BCN) - Two studies released Wednesday by the American Heart Association at the 47th annual conference on Cardiovascular Disease Epidemiology and Prevention shed light on the eating habits of children.
One study found a correlation between hours of television watched by 3-year-olds and the development of poor eating habits. Another study found that impoverished children and children who were members of a minority group were more likely to be obese.
Full story, click here.
---
Newsom stalker arrested in Union City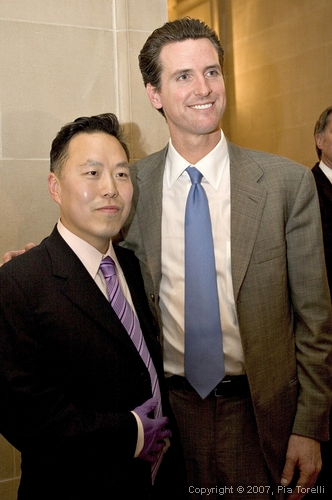 Han Shin with Mayor Gavin Newsom, 2/12/7
Photo by Pia Torelli, World Picture Network, special to Fog City Journal
By Lara Moscrip, Bay City News Service

March 1, 2007
A man accused of stalking San Francisco Mayor Gavin Newsom was arrested last night at his Union City home on suspicion of attempting to run over a man and causing a minor injury to a San Ramon police officer, according to a spokesman for the Contra Costa County Sheriff's Office.
According to spokesman Jimmy Lee, 42-year-old Han Shin went to a house in the 2100 block of Longleaf Circle in San Ramon around 8:45 a.m. in order to confront a man with whom he had once had a romantic relationship.
Full story, click here.
---
Feinstein, Pelosi, Ma abstain on DCCC Wolf resolution
March 1, 2007
A resolution backing wrongfully imprisoned journalist Josh Wolf and urging enactment of a federal shield law received near-unanimous approval Wednesday night from the San Francisco Democratic County Central Committee.
None of the delegates opposed the resolution, though proxies for Senator Dianne Feinstein, Speaker Nancy Pelosi and Assemblymember Fiona Ma abstained from voting on the resolution
Full story, click here.
---
Church leaders, politicians react
to AsianWeek controversy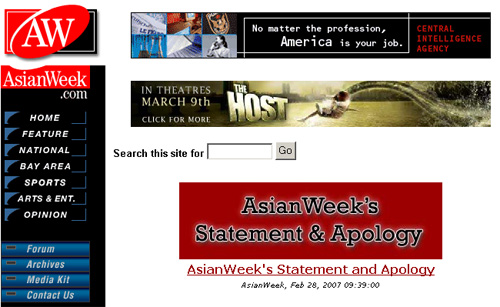 Screenshot courtesy Asianweek.com
By Tamara Barak, Bay City News Service

February 28, 2007
SAN FRANCISCO (BCN) - AsianWeek Editor-at-Large Ted Fang today said the columnist who penned the piece "Why I Hate Black People" last week will not contribute to the free paper's content again.
The controversial column by 22-year-old New York-based Kenneth Eng appeared in the current edition of AsianWeek, which came out Friday.
Full story, click here.
---
COURT JESTERINGS
With h brown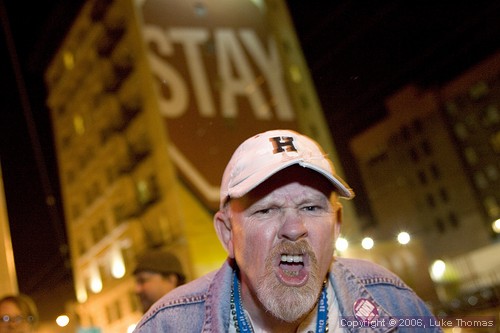 Photo(s) by Luke Thomas
Court Jester reviews BOS and other misdemeanors
February 28, 2007
"In Deuteronomy, it says: 'If a man lies with a woman
who is the wife of another man,
that man and the woman
should be stoned to death.'"
(Public speaker at yesterday's Board of Supervisors meeting)
The guy looked the part of a religious nut. Mid-50's, white, lean, short-sleeved sport shirt with a pamphlet sticking out of the breast pocket. You could make out the headline: "Does God Love You?" He explained to us that he'd tried to deliver his message to the Mayor in person but, for some reason, Gavin wouldn't see him. And, this guy came all the way from a trailer park outside San Jose to share the biblical remedy with us.
Full story, click here.
---
And in other news...
- Landslide property owners get another 48 hours for cleanup plan
- Golden Gate Bridge approach, North Bay projects get funding
---
Letters, letters, letters...
---
FCJ Quote of the Day


Mullah Dadullah
Taliban military commander
"The Americans have sown a seed. They will reap the crop for quite a long time. We will get our revenge on them, whether in Afghanistan or outside. The suicide martyrs, those willing to blow themselves up, are countless. Hundreds have registered their names already and are ready to go and we have hundreds more on the waiting list. Each is anxious to be the first to be sent."
- Mullah Dadullah,Taliban military commander, 3/1/7

---
Bay Area Weather Forecast

Current satellite photo courtesy NOAA Satellite Service

Weather, click here
---
More Fog City Journal stories, click here.