- NOW in FOG CITY JOURNAL -
NOTE: For subscribers who cannot read HTML-formatted text, click here

---
Newsom Can't Fake it Anymore Question Time
Excelsior residents succomb to bouts of narcolepsy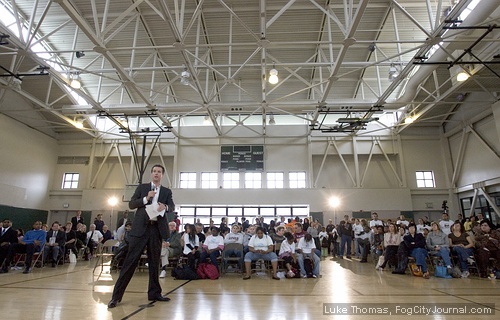 Mayor Gavin Newsom, Saturday, held a district town hall meeting in the family-heavy enclave of San Francisco's Excelsior district (district 11). The staged event was Newsom's 4th town hall "Question Time" meeting since voters passed Proposition I in November.
Photo(s) by Luke Thomas
By Elaine Santore, special to Fog City Journal

April 22, 2007
The San Francisco blogosphere collectively calls Mayor Gavin Newsom's town hall meeting series "Fake Question Time," deservedly so. However, the latest meeting held Saturday afternoon at the Excelsior Boys and Girls Club, might as well be called "Can't Fake it Anymore Question Time."
Full story, click here.
---
And in other news...
---
Bay Area Weather Forecast

Current satellite photo courtesy NOAA Satellite Service

Weather, click here
---
More Fog City Journal stories, click here.