- NOW in FOG CITY JOURNAL -
NOTE: For subscribers who cannot read HTML-formatted text, click here

---
Overheard in Fog City
By Luke Thomas
May 12, 2007
- Daly whips up progressives
- Newsom returns unsigned affordable housing supplemental
- Sparks makes history, Renne "outfoxed"
All the subtext, click here.
---
The CrackBerry Chronicles
With Elaine Santore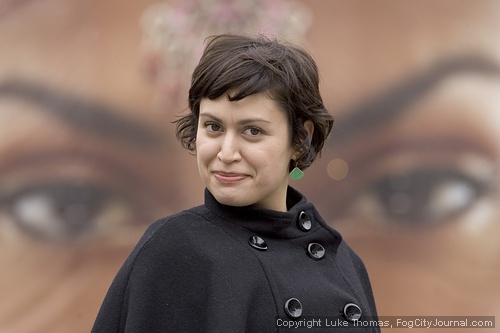 Photo(s) by Luke Thomas
May 14, 2007
- Socialiterank.com: Fast, Cheap, and Grammatically Loose
- Dame for Sale
- CrackBerry Blind Item
All the nitty gritty, click here.
---
California Attorney General to sue Bush Administration over gas mileage standards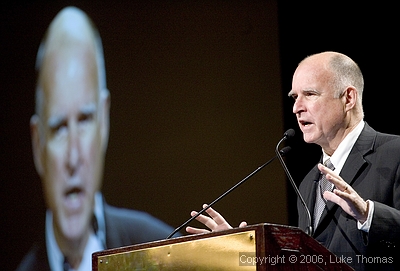 California Attorney General Jerry Brown
Photo(s) by Luke Thomas
By Ari Barak

May 13, 2007
A San Francisco federal appeals court on Monday morning will hear a lawsuit filed by state Attorney General Jerry Brown and several other states against "weak" gas mileage standards adopted by the Bush administration, the Attorney General's office reported.
Brown is scheduled to hold a news conference on the steps of the 9th U.S. Circuit Court of Appeals in San Francisco announcing the lawsuit, which alleges that a recent increase by the National Highway Traffic Safety Administration in vehicle mileage standards for sport utility vehicles, pickup trucks and minivans runs contrary to federal rules mandating energy conservation, according to the Attorney General's office.
Full story, click here.
---
And in other news...
- Vallejo police investigating accidental shooting of father by four-year old son

- Special treatment for ex-49er Bryant?
Pleads no contest to reckless driving
- Drug-resistant tuberculosis worries health officials
- Schwarzenegger tours fire swept Griffith Park
- Former McAfee CFO convicted of securities fraud
- Street closure announced for new Mint Plaza
---
Letters, letters, letters...
- Open letter to Mayor Newsom
- Real Money
- Theresa Sparks elected Police Commission president
Letters, click here.
---
Bay Area Weather Forecast

Current satellite photo courtesy NOAA Satellite Service

Weather, click here
---
More Fog City Journal stories, click here.