- NOW in FOG CITY JOURNAL -
NOTE: For subscribers who cannot read HTML-formatted text, click here

---
Evidence released in 1971 San Francisco police death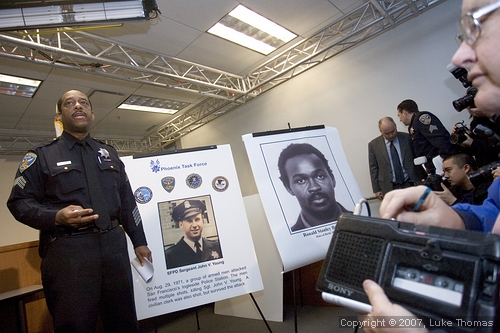 SFPD spokesperson Neville Gittens stands beside a poster
of slain SFPD officer Sgt. John Young who was murdered in cold blood
during a politcally motivated attack on the Ingleside police station in 1971.
Photo(s) by Luke Thomas
By Brent Begin, Bay City News Service

January 26, 2007
SAN FRANCISCO (BCN) - The keys to arrests earlier this week in the 1971 slaying of a San Francisco police sergeant include a fingerprint found on a cigarette lighter and a match of shotgun shells from the lost murder weapon.
Authorities earlier this week were reluctant to offer details into what prompted them to refocus their energy on the decades-old investigation into the death of San Francisco police Sgt. John Young. Eight former members of the Black Liberation Movement were arrested Tuesday.
Full story, click here.
---
California Public Utilities Commission
issues new regulations for clean power generation
Supported by Governor
By Jason Bennert, Bay City News Service

January 26, 2007
The California Public Utilities Commission on Thursday approved new regulations that ban state utilities from purchasing power from high-polluting power plants, including most coal fired power plants.
The new regulations are in response to last year's legislation signed by Gov. Arnold Schwarzenegger that seeks to limit California's contribution to global warming. Schwarzenegger applauded Thursday's PUC action.
Full story, click here.
---
COURT JESTERINGS
With h brown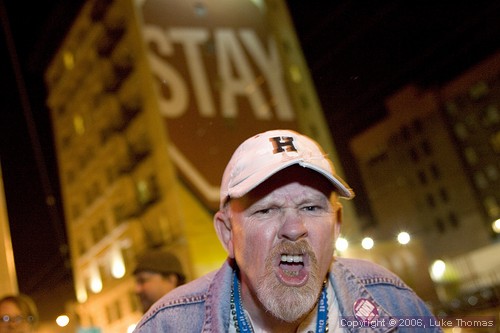 Photo(s) by Luke Thomas

Court Jester bestows 6th Annual Bulldog Awards
January 25, 2007
Wanna hear mixed emotions? Yesterday, I heard a rooster crow to greet the morning from U.N. Plaza. God, there's something so grounding about hearing a rooster in the morning. But here, obviously, this particular rooster was not in the right place to joyfully announce the morn. I instantly named him, 'Saddam'.
So, my number one award for bravery, art and chutzpah in the face of certain death goes to the rooster in the back of the truck in U.N. Plaza who called to wake me up and tell me that as of now, the ball is in my court.
Full story, click here.
---
And in other news...
Stanford official comments on Zhou case, body found

San Francisco ordinance would protect media phone records from SFPD
Slow to moderate economic growth forecast for Bay Area
Coalition calls on San Francisco to reject Google/Earthlink deal
San Francisco Police Commission upset with Office of Citizen Complaints audit
PG&E breaks ground on new Antioch power plant
Feinstein supports moving presidential primary to February
---
Events
- Birthday party for Fog City Journal's Luke Thomas
---
Bay Area Weather Forecast

Current satellite photo courtesy NOAA Satellite Service

Weather, click here
---
More Fog City Journal stories, click here.